On June 2, Foreign minister of Azerbaijan Elmar Mammadyarov met with the defence minister of Tajikistan, colonel-general Shirali Khayrulloyev.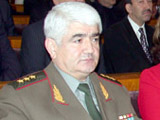 Expressing gratitude for warm reception, the guest gave high assessment to development of bilateral relations between two countries, AzerTAg informs.
Mr. Mammadyarov, in his turn, highly appraised the economic and political relations between two counties, noting that possibility of opening of the embassy of Azerbaijan in Dushenbe, which would serve strengthening of further cooperation.
Informing on the process of negotiations for peaceful settlement of the Armenia-Azerbaijan, Nagorno Karabakh conflict, Mr. Mammadyarov said the conflict has negative impact on peace, stability and integration in region. He told that the Armenian destroy cultural heritage both in Armenia and in the occupied territories.
In the metering, also exchanged were views on questions of safety in region and other issues of mutual interest.