South Azerbaijan National Freedom Army (SANFA) established in Iran, South Azerbaijan National Revival Movement European Organization informs.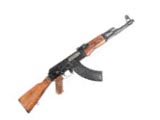 The army was organized by Azerbaijanis who served in Iran Army. In the statement issued by SANFA related to it is stated that struggle will be lasted until rights of Azerbaijanis restored.
SANFA requirements are also stated in the statement: "The government of Iran in accordance with article 15 of the Constitution of the state Azerbaijanis should be given education rights, newspaper in Azerbaijani and 24 hours TV channels local executive power heads should be selected by Azerbaijanis where Azerbaijanis are in majority, necessary measures should be implemented to remove financial problems of South Azerbaijan. Imprisoned Azerbaijanis while protest action should be released and on June 29 Azerbaijanis participation should not be prevented on the day of Babek Khurrami's birthday, National Hero of Azerbaijan."
SANFA demanded to punish those fired at action participants in the cities of Iran where Azerbaijanis live, APA reports.