Repeat local elections will be held to the local authorities, in which the 2004 local elections results were annulled, in Azerbaijan in October this year.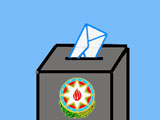 The Central Election Commission press secretary Azer Sariyev told APA.
Calling the recent statement of the Council of Europe Congress of Local and Regional Authorities regarding Azerbaijan irrelevant, Sariyev said during the Congress president Giovanni Di Stasi's visit to Baku, he was informed that the repeat elections to local authorities will be conducted in autumn this year.
"However, knowing that, they stated that Azerbaijan might face sanctions if it does not have repeat local elections. The matter is, we sent an official letter to the Congress informing that repeat elections will be conducted in autumn," the press secretary said.
Sariyev also said that preparations for the repeat local elections will be launched from June this year.
The CEC is making calendar plan of the re-elections now. Unlike the parliamentary and presidential elections, the date of the local elections will be fixed by the CEC not by head of state.

Sariyev noted that the results of the 2004 local elections to 135 local authorities were annulled by the CEC and the results on six precincts were annulled by other precinct election commissions. In general, the repeat elections can be conducted to not only 141 local authorities but more than that.
He also said new municipal authorities have been established since 2004 and elections will be held in these authorities too. However, their number has not been specified.