The meetings of the PACE (Parliamentary Assembly of the Council of Europe) Committees on Political Affairs, Monitoring, Legal Affairs and Human Rights are due to take place from 2 to 8 June in Paris.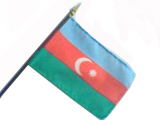 The events will also be attended by a group of Azerbaijani parliamentarians led by Samed Seyidov, chairman of the Milli Majlis Commission on International Relations and Interparliamentary Ties, head of the permanent delegation to PACE.
The delegation included deputies Aydin Mirzazadeh, Rafael Huseynov and Aydin Abbasov.
The meeting participants will share their views on the Muslim communities facing extremism in Europe, last visit of co-reporters to Baku, cooperation of PACE member-states with the European Court of Human Rights, situation in Kazakhstan, Kosovo, Chechnya, Bulgaria, Serbia, Bosnia and other matters.
The meetings will be addressed by head of the delegation Samed Seyidov and Azerbaijani parliamentarians will reveal Azerbaijani side's stance on the agenda, AzerTAg reports.