Turkish FM Abdullah Gul asked his Russian counterpart Sergey Lavrov that Russia supports Turkey in its fight against terrorism.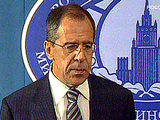 Gul and Lavrov had a dinner in the Turkish Foreign Minister's residence yesterday.
According to diplomats, two foreign ministers exchanged views about bilateral relations and regional topics, as well as Turkey's EU membership bid.
Lavrov welcomed measures Turkey has taken regarding the Caucasus, while Gul asked Lavrov to extend support to Turkey's fight against the terrorist organization PKK. He demanded that Russia take measures against illegal activities of the terrorist organization on its territory.
The two ministers also discussed the so-called Armenian genocide allegations, as well as Armenian-Azerbaijani controversy.
Diplomats quoted Lavrov as saying that "the Armenian allegations are not a dominant factor in Turkish-Russian relations; although it is important for the Armenians". In the meeting, Lavrov said "they (Russians) are against using such historical incidents as a political tool."
Supporting Turkey's suggestion to set up a joint commission composed of Turkish-Armenian historians to investigate the Armenian claims, Lavrov said that they are ready to extend necessary support to Turkey regarding this issue.
Meanwhile, Gul said that unless the controversy between Armenia and Azerbaijan is not settled before Azerbaijani elections, a solution may not be reached within next five or ten years. "Therefore, we hope Russia will contribute to the settlement of the problem in the possible shortest time," he noted.
/www.anatoliantimes.com/