Azeri political expert Zardusht Alizade's inrerview to Regnum news agency.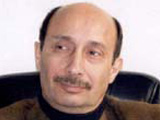 Mr. Alizade, would you, please, comment on the events in the Azeri provinces of Iran that followed the May 12 scandalous publication of anti-Azeri cartoons in the "Iran" daily?
You know, I am trying to be very careful in commenting on these events. As you know, Iran is in a serious confrontation with the US. The sides are engaged in a global information war, with the US having much more control over the world mass media than Iran. I think that both reports – that Iran is controlling the situation and, on the contrary, that Iran is being shaken by a civil revolution – are far from the truth. Hard as one may want this – there is neither absolute tranquility nor a revolutionary situation there. Obviously, the Iranian authorities are strong enough to prevent any internal threat. I am personally a strong opponent to any revolutions and an ardent advocate of evolutionary social development. I regret to say that the Iranian authorities are still failing to carry out reforms, which is raising tensions in the country.
That is, in principle you admit that evolutionary changes are possible even in closed society but do not see them happening in this particular case?
Why not? Closed societies can also be opened to a certain extent. Just remember the liberal tendencies in the times of Iranian ex-President Muhammad Khatami. And the advent of the ultra-conservative Mahmoud Ahmadinejad was exactly a reaction of the conservative Islamist circles to these tendencies. They got afraid that real changes might take place and decided to turn the screws on them. No surprise that they have now got a public reaction in the form of ethnic conflict.
Why do you think that the military and other potentials of the Iranian authorities are enough for preventing any undesirable tendencies?
There are two reasons. First, the key factor cementing the Iranian society is Islam and, second, Iran is now ruled by an almost absolutely unrestricted authoritarian regime with all the necessary force attributes and all the ensuing consequences.
This means that the present events will have bad consequences for the Iranian Azeris…
Let's not forget that Tabriz, the city where the disturbances started, is though important but still provincial city. It is not Tehran with its big economic and human potential. Still the question is how the Iranian authorities will use their huge potential, how they will try to overcome this situation. I am inclined to think that their first steps were correct. They have recognized as fair most of the claims by Tabriz students, they have closed the daily who made insults against Azeris, they have arrested its editor and employees who tried to kindle ethnic strife. These measures should calm people down, but even if anybody still tries to fish in troubled waters, he will face repression – something inevitable under such regime – or, at least, some more civilized but no less destructive mechanism.
You must have some examples…
Yes, I do. I would like to give one example: some four years ago, in the times of ex-president Muhammad Khatami, Tehran University students – first 50, then 100,000 — went into the streets with demands for liberal reforms. In response the Islamists sent into the streets half a million of their supporters. As far as I know, most of the several millions of Azeris living in Tehran – rather cosmopolitan capital of Iran – have got deeply integrated into that society and have lost most of their national features. I don't believe that such people can go into the streets to demand that the authorities give a state status to the language they have partly forgotten.
One more important moment is that many in Baku forget that for many years already Iran has been led by ethnic Azeri Ali Khamenei. There are many Azeris in the top Iranian authorities. The Azeris are one of the two key forces that have been ensuring the power of the Iranian state for many centuries. And ordinary citizens perfectly know that. So, obviously, one can't be absolutely sure in this issue or he may commit serious mistakes in its assessments, especially, in its forecasts.
/Regnum/