It will be Mr. Aliyev's first official visit to the US since he was elected as President in 2003.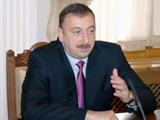 According to Radio Liberty, the visit is sceduled for the end of April. During the visit President Aliyev will meet President Bush and other Administration's officials.
Upcoming visit's details to be discussed at the Mammadyarov-Rice meeting on April 7.
Possibility of the visit is high due to the strategic relationships between Azerbaijan and the US, but there is no exact date, Azerbaijani Foreign Ministry's press service tells Day.Az.
Some analysts think the visit is connected with an Iranian problem and settlement of Nagorno Karabakh conflict. Analysts think the US will try to involve Azerbaijan into anti-Iranian coalition.