The 4th conference of the Organization of Islamic Conference inter-parliamentary union will be held in Istanbul on April 12-13.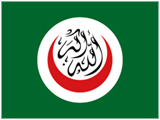 Speakers and MPs from parliaments of 47 countries and head of 10 regional and international organizations will take part in the work of the conference, Trend reports citing the Turkish parliamentary press-service.
The Turkish president, Ahmed Nejed Sezer will also participate in the meeting. The action is organized by the Great National Meeting (parliament) of Turkey.
According to the Milli Mejlis press-service, it is not clear yet if the Azerbaijani speaker, Oktay Asadov will participate at the conference.