The visit of the Polish parliament speaker, Bogdan Borusevic to Baku is postponed.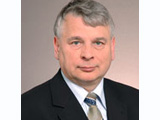 The visit was initially scheduled for April 6-7, but was postponed due to the technical reasons, the embassy said. The date of the visit is not yet defined, the Polish embassy in Baku told Trend.
The polish speaker was invited by his Azerbaijani counterpart, Murtuz Aleskerov. Matters of inter-parliamentary and state cooperation were expected to be under discussion.