The reason of it was that the sides were against each-other during election of the Secretary General.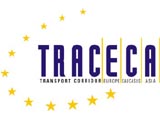 APA was informed about it by the TRACECA national secretary in Azerbaijan Akif Mustafayev.
Mr.Mustafayev said that the previous date of the 5th conference of the TRACECA Intergovernmental Commission to be held in Sofia (Bulgaria) was changed. This conference initially planned to be held early in April was assigned on May 2.
The Azerbaijani delegation will leave for Sofia on April 29. The reason why the conference's date was changed was that in April, series of official and holiday events would take place in Bulgaria which would host the conference and preside over the organization next year.
According to Mr.Mustafayev, a meeting of the TRACECA national secretaries will be held on May 1 and agenda of the conference will be reviewed there for the last time.
"Reports will be given at the conference and we also plan to deliver a speech there. Besides, execution of the decisions adopted at the 4th conference will be reviewed. Approval of the TRACECA development strategy to 2015, reformation of the organization into an international organization, projects planned for 2006 will be discussed and the general secretary and chairman will be elected", the national secretary stressed.
TRACECA is currently chaired by Azerbaijan. Next year the chairman will be Bulgaria.