President of Turkey Ahmad Nejdat Sezar pays official visit to Azerbaijan today.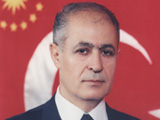 As APA reports, the Turkish President will meet in private with Azerbaijani President Ilham Aliyev and then the talks will be held in larger format. The Presidents will hold joint news conference.

Mr.Nejdat Sezar will also have talks with PM Artur Rasizade and speaker of parliament Ogtay Asadov. The Turkish President is expected to meet heads of big Turkish companies functioning in Azerbaijan.

Turkish Ambassador to Azerbaijan Turan Morali told that no document would be signed during the visit. Ahmad Nejdat Sezar will end his visit and return to Ankara April 5.