Head of the Committee Against Tortures (CAT) Elchin Behbudov met with the ex-Minister of economic development Farhad Aliyev, ex-Minister of Finance Fikret Yusifov and President of Azpetrol Group of Companies Rafig Aliyev detained in the jail ward of the Ministry of National Security.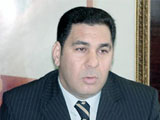 As APA reports, Elchin Behbudov told that he could not meet with the former Health Minister Ali Insanov as he was being interrogated.
 
"Rafig Aliyev has no health problems. The ex-Minister Fikret Yusifov says his stomach hurts him. He had an operation on his pancreas several years ago. He was going to undergo another operation before he was arrested. So, he needs doctor's care," Behbudov said.
He also said that Farhad Aliyev's not in good health. According to him, the ex-Minister's hands tremble and fingers have turned yellow.
 
"Farhad Aliyev said his blood pressure's not stable. He has stenocardia in his heart," the lawyer added.
Behbudov noted the ex-Minister's dissatisfied with the delay of the investigation.
"Farhad Aliyev denies charges and thinks he's in prison for political motives. He considers himself as political prisoner," Behbudov concluded.