Armenian Armed Forces violated cease-fire in the frontline 75 times during first quarter of this year.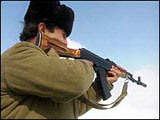 As APA informs, the most intensive cease-fire violations have happened in March and sometimes in January. Armenian Armed Forces fired on Azerbaijani Army's positions and residential zones 10 times in January, 14 times in February and 50 times in March.
Cease-fire was violated 48 times in March last year. The most violated areas are Gazakh - 32 times, Aghdam - 14 times, Terter - 12 times, Tovuz - 6 times, Fuzuli – 5 times, Jebrail - 2 times, Geranboy - 2 times, Gadabey – 1 times, Khojavand – 1 times.
Armenian violations were more active in Gazakh-Tovuz frontline in early March and in Fuzuli-Jebrail frontline late March.

The "hot violation" areas of the frontline are: in the Azerbaijani state border - Mezem, Gizilhajili and Balajafarli villages in Gazakh region; Hasangaya, Chayli, Jerabert and Gapanli villages in Terter; Ashagi Seyidahmadli village in Fuzuli.
The OSCE monitored Azerbaijani-Armenian frontline 5 times within the passed three months. One monitoring was postponed due to bad weather, and one was postponed due to violation of the cease-fire by Armenians. But OSCE managed to monitor three times without incidents.

Azerbaijani Armed Forces' 18 military men were killed and 6 were wounded. 4 of them were killed in fire, 5 in auto-accident, 1 committed a suicide, 2 in avalanche and 6 were shot by the enemy.

5 of the killed are officer, 2 is ensign, 1 is sergeant the rest are soldiers. 5 of them were killed in battle area. Totally, Azerbaijani Armed Forces lost 11 military men in January, 2 in February, and 5 in March. All the casualties are those who are serving under auspicious of the Defense Ministry.