Matthew J.Bryza, the US Deputy Assistant Secretary of State, Bureau of European and Eurasian Affairs, met the opposition leaders in the American embassy in Baku on April 3.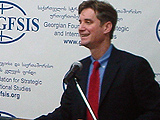 The Azdlig bloc co-founders - ADP first vice-chairman, Serdar Jalaloglu, leader of the National Unity movement, Lala Shovket Hajiyeva, People's Front party chairman, Ali Kerimli and Musavat party head, Isa Gambar took part at the meeting, the head of the Azerbaijan Democratic Party (ADP) press-service Nurreddin Ismayilov told Trend.
The last year's parliamentary elections and preparation for the re-run elections on May 13 as well as the Nagorno Karabakh problem were also discussed during the meeting, Ismayilov said.