The official visit of Valdas Adamkus, the Lithuanian President, to Azerbaijan is planned in mid-April.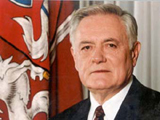 The sides can sign 5 or 6 documents of politic and economic character, including, political statement by the Presidents, within the visit.
The agenda of the visit and bilateral documents have not been drawn up yet. They will be unified during the visit of the Lithuanian expert group to Baku soon, the Azerbaijani Foreign Affairs Ministry told Trend.