Matthew J.Bryza, the US Deputy Assistant Secretary of State, Bureau of European and Eurasian Affairs, arrived in Baku.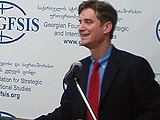 During the visit it is planned to hold several meetings with Azeri officials and discuss perspectives of development of bilateral relationships, the US embassy in Baku told Trend.
Mr. Bryza plans to attend an international conference on oil industry transparency.
On 5 April Baku will host the 4th meeting of the International Consultation Group of the Extractive Industry Transparency Initiative (EITI). On the next day (6 April) an international conference on "EITI: experience of pilot countries" will be held.
The event will be held in close cooperation of the EITI commission with the Coalition in increase of transparency in extractive industry.
The conference will be held with the participation of the NGOs of the United States, Russia, Egypt, Nigeria, Peru, Georgia, Kazakhstan, Turkmenistan, and Kyrgyzstan.
Heads of the diplomatic missions of the United States, UK, France, Norway and Kazakhstan will be in attendance.