The IV Assembly of the World Democratic Movement has started its work in Istanbul from April 2.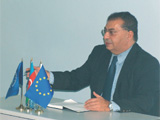 Turkish prime minister, Rajab Teyyub Erdogan took part at the conference. Leaders of democratic movements, political parties, NGOs from around the world took part at the conference, the Azerbaijani party for Democratic Reforms chairman, MP, Asim Mollzadeh told Trend.
Another meeting dedicated to NGOs was held within the frames of the Assembly in Russia on April 3. Several meetings aimed at the development of democracy will also be held on April 4 in some of the east European countries.
Mollazadeh, who has represented Azerbaijan at the meeting, had a number of discussions with the meeting participants and representatives of foreign political parties.
"A meeting of the Democratic MPs of the world Organizations will also be held, MPs from several countries will take part at the meeting. We will have common discussions and meetings in the frames of the conference," he concluded.
The World Democratic Movement, founded by the United States, unites the leaders of the world democratic political structures.