The Iranian military have tested "the world's fastest torpedo" in the course of the manoeuvres of the Iranian army and navy in the Gulf area, the Iranian State Television reports with reference to military sources.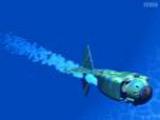 According to Itar-Tass, the type and technical characteristics of the new torpedo were not revealed. It was merely reported that it is able to develop a speed of up to one hundred metres a second.
Iran had launched large-scale military manoeuvres on Friday. Taking part in them are seventeen thousand officers and men, several naval squadrons, destroyers and bombers. The manoeuvres are being held some forty kilometres from the coast, within an area, stretching from the northernmost point of the Iranian littoral on the Persian Gulf and to port Chahbehar on the coast of the Gulf of Oman.
Iranian Rear Admiral Mohammad Dohkan stressed on the eve of the manoeuvres that the Strait of Hormuz would be the main area of the military exercises. "Iran is in full control of this part of the Persian Gulf, through which about eighty per cent of all the petroleum, extracted in this region, are shipped," he stated.