There is deep tolerance to Jews in Azerbaijan both from government and population. The State Committee's on work with the religious structures head, Rafik Aliyev told at the meeting with the head of the Israeli PM office, Ariel Romot.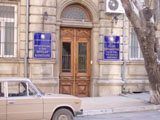 According to Trend, he has reminded about the existence of denomination of freedom and protection of all Jews living in the country, adding that such policy will be continued.
Aliyev has highly praised the activities of the Jewish community in Azerbaijan for the development of the bilateral relations. The problems of the religious communities are under the governmental control and a number of changes will soon be made in that regard, he said.