One more Azerbaijani soldier has been killed as a result of the armistice violation of the Armenian armed forces.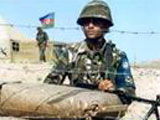 At 09:00 positions of the Azerbaijani armed forces located near the Ashagi Abdulrahmanli village of the Fizuli district came under the small arms fire from the Armenian armed forces located 1,3km to the north. As a result one Azerbaijani soldier, Shaban Mohamed oglu Yagubov has died from the wounds and another, Niameddin Shirinov, was injured.
At 21:45 Armenian armed forces located near the Ashagi Abdulrahmanli village and at 23:05 from positions near Jafarli village of Kazakh district has subjected to the small arms fire the adjacent Azerbaijani positions (including Jafarli village).
After the return fire shooting subsided, no casualties reported.
The killed soldier, Shaban Yagubov, born 1987, was  drafted to the military service by the Zakatal district military Commissariat in April 2005 and the wounded soldier, Niameddin Shirinov, born 1979, was drafted by the Geranboy district military Commisariat in January.
The Ministry of Defense expresses deep condolence to the dead soldier's relatives, Trend reports.