On 31 March a crowd of people gathered in the Sarachane Park to argue against allegations of the Armenian Genocide with the intention of remembering the mass killing of Azerbaijanis in Karabakh.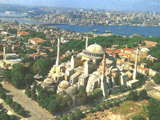 An association established to help Azerbaijanis in Turkey and the Istanbul Consulate of Azerbaijan. Organized a meeting to memorialize the day when Azerbaijanis were killed in Karabakh.
At least 300 Azerbaijanis and Turks turned up at the meeting in the Sarachane Park of Fatih area, Istanbul.
People carried Turkish and Azerbaijani flags, sang songs, and cursed the Armenians mass murder of Azerbaijanis.
"Karabakh will belong to Turks, and it will be a graveyard for Armenians," chanted the crowd at the meeting, and carried placards reading, "We condemn the killing of Azerbaijanis by Armenians on 31 March. 31 March is [a historical record of] the genocide. The Armenian genocide is a lie, the Turkish genocide is true."
Armenians are struggling to pass the Armenian genocide off as a true event, said Ibrahim Nebioglu, the Consul General of the Istanbul Consulate of Azerbaijan.
/www.zaman.com/