A dialogue on security, which was set up in 1996 between the United States and Azerbaijan should be strengthened.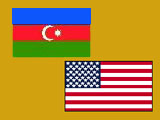 Araz Azimov, the Azerbaijani Deputy Foreign Minister, completed his visit to Washington.
Azimov is a co-chair of the US-Azerbaijani dialogue on security which was established in 1996. John Hillen, US Deputy Secretary of State on military-political issues heads the commission on the part of the United States. Along with the Deputy Foreign Minister attending the discussions were Deputy Minister for National Security, Fuad Isgandarov, Deputy Head of the State Frontier Service, Farhad Tagizade and the commander-in-chief of the Maritime Forces, Shahin Sultanov.
According to Azimov, considerable part of cooperation between Azerbaijan and the United States concern the military-political sector, security, and practical work in this direction.
"Though the US support to Azerbaijan in these spheres is on the desired level, we lay more demands. The US attitude towards these testifies that it is ready to larger cooperation. In general, the dialogue develops positively," he said.
Issues on agenda remained unchanged: provision of the security of Azerbaijan in the national and regional levels, relationships under the UN increase of the role of OSCE in the ongoing processes, the resolution of regional conflicts, relationships among the Caspian littoral countries, military-political situation in the Caspian basin. A set of risks and threats in the Caspian is difficult enough. Elements of war, terror and environment are peculiar to it. In this respect the United States closely cooperates with Azerbaijan.
"We have achieved some agreements. A group of specialists will visit Azerbaijan to study opportunities for Azerbaijan's joining to an initiative on energy and maritime security, as well as G8's initiative directed against spread of mass destruction arms, Azimov added.
He also noted that while considering the situation in the region the sides also touched upon the situation in the Azerbaijani-Iranian border.
"We informed that 130km-section of the border line is under occupation of Azerbaijan. The threats coming out from this section should be necessarily considered. The talks also centered on the situation with the Caspian sea section bordering Iran. Azerbaijan is concerned on some steps by Iran in this section. We have repeatedly stated that the silence should reign in the borders with neighboring countries and it is necessary to approach with respect to these borders and observe them. As we noted, we have different commercial relationships with Iran as a neighboring country. A number of Azeris live in Iran. In this respect Azerbaijan with special interest and concerns observes the developments in Iran. We'd never wish to see crisis there. We are for peaceful resolution of all problems," Azimov underlined.