Armenians violated the ceased-fire in the direction of Azerbaijan's regions of Gazakh and Tovuz.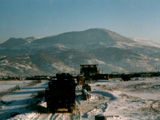 The Defense Ministry informed APA that the companies of Armenian armed forces, from their positions in Mazamli village, Gazakh, fired on the opposite positions of Azerbaijani armed forces and Mazamli village from 15.15 till 19.35 on 26 March.
Armenian forces again fired on Azerbaijan's positions in unnamed mountain height in Gazakh from their positions in 2.2 km to Vazashen village, Ijevan, from 23.20 till 23.30. The enemy forces, from their positions in 2.7 km of Aygezor village, Berd, and 1.7 km south-east of the mountain Lagzival, fired on the Azerbaijani Army's positions near Munjuglu and Garalar villages of Tovuz region.
The enemy was silenced by response fire, no loss is reported.