The Azerbaijan Central Elections Commission (CEC) will invite representatives of CEC from other countries to observe the re-run parliamentary elections on May 13, CEC Vice-Chairman, Swetlana Gasimova stated.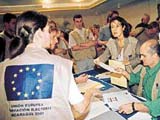 As Trend reports, long term and short term observers will be invited to participate during the elections, she said. Azerbaijani CEC will invite representatives from Electoral Commissions from around the world, whereas representatives from international organizations and private structures will be invited by the Ministry of Foreign Affairs.
According to Gasimova, CEC Calendar plan for re-run parliamentary elections includes all necessary provisions for the participation of long and short term observers at the elections.