"Reckless statements cannot harm relations, relations between the two countries will expand and deepen, planned projects will be implemented," Iranian Ambassador to Azerbaijan, Afshar Suleymani, said.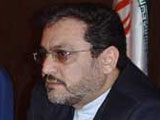 Mr. Suleymani noted the importance of giving correct information to Iranian and Azerbaijani people. The Ambassador expressed his dissatisfaction with some mass media's biased and emotional programs. The Ambassador doesn't consider his own statements as emotional.

"Azerbaijani TV channels imposed a ban on me. I concretely expressed the stance of Islamic Republic of Iran. If we want our relations to expand, deepen and strengthen, the issue should be transparent, opinions should be aired".

Mr. Suleymani thinks that some famous figures intervened in the internal affairs of Iran at the World Azerbaijanis Congress II and this is in contradiction of international legal norms.

"Some considers Iranian Azerbaijanis issue as Azerbaijan's internal affair and say that the Ambassador interfere with our internal affair. However, some ambassadors interfere in the internal affairs of Azerbaijan candidly, nobody react to them. I said not to interfere in Iran's internal affairs, but they give this word other meaning. False information is spread about my participation in various events. I go to only where I am invited, I never go if I am not invited. Both Iran and Azerbaijan are dear to me. So, I attend whether the event is big or not. I visited Azerbaijan's 3-4 cities and give information to the Foreign Ministry about the visits. I represent Iranian people, I am Ambassador of my country and, at the same time, I represent Iranian Azeris. I have done much to Azerbaijan-Iran relations and, of course, I will not refuse my concept. False information is neither beneficial to Azerbaijan nor to the relations. These actions will not bring benefit to Azerbaijan. I think that I said my opinions as a defender of Azerbaijan's interests. I am Iranian Ambassador, but I think that I am thinking of Azerbaijanis national interests rather than others. Azerbaijan is an independent country. Iran wants Azerbaijan's independence to strengthen and to further develop, our activities are aimed at this direction".
Saying he did nothing against Azerbaijan, the Ambassador stressed that he would never do so afterwards as well.

"But Azerbaijan should not speak against Iran either".

The Ambassador said that Iran recognized Azerbaijan democratic Republic established in 1918. Diplomat also touched on Turkmenchay agreement.
"We shouldn't speak of Turkmenchay agreement; it happened in a history and passed. Some didn't read this agreement, but they quote it. It is not written in Turkmenchay agreement that Azerbaijan was separated. This agreement was signed between Russia and Iran; some territories were separated from Iran and given to Russia. Iran has never raised this question. We say that Azerbaijan is an independent state, we are neighbors, and we should protect this neighborhood. Some quote to the history that most of Iranian Shahs were Turks. If a citizen goes to a country and becomes its citizen, then he becomes a president, it doesn't mean that this country is his nation".
The Ambassador made clear his statement that Nizami and Shahriyar are Persian poets.

"Shahriyar was Iranian citizen, wrote in the Azerbaijani and Persian languages. We don't say that he is Persian or from other nation, we use the term "Iranian". Nizami Ganjavi was from Ganja. His tomb is in Ganja as well but he wrote his "Khamsa" in Persian. Former Iranian president, Mahammad Khatami, said during his visit to Azerbaijan that Nizami was a poet, who wrote in Persian".