Kazakhstan waits for Azerbaijan's reply due to signing of agreement on oil transit through the Baku-Tbilisi-Ceyhan pipeline, Andar Shukputov, the Kazakh Ambassador to Azerbaijan, told press on Thursday.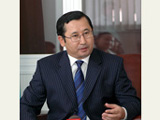 According to Shukputov, last time the draft agreement was discussed in Kazakhstan in 2005. "The sides have achieved some agreements, but the negotiations were held in the level of economic subjects such as the State Oil Company of Azerbaijan (SOCAR) and Kazmunaygas. Now the draft agreement is due to be unified by other appropriate bodies and departments," the Ambassador stressed.
According to Shukputov, all Kazakh ministries and departments unified the draft agreement and sent it to Azerbaijan.
"It'll probably be signed soon, if Azerbaijan successfully carries out the procedure without any changes," he added. The diplomat noted if there were any insignificant changes, signing would require additional time and negotiations. Shukputov does not wait for principal disagreements.
As to volume of exporting oil through the pipeline, the Ambassador stressed that BTC was one of the ways of Kazakh oil export. Now the sides consider export of 10m or 12m tons oil, Trend reports.