Some thoughts voiced during the 2nd congress of World Azerbaijanis in relation to Iran can not be the official position of Azerbaijan, Nazim Ibrahimov, the Chair of the State Committee on Azerbaijanis Living Abroad, stated.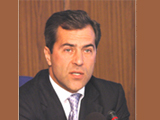 According to Trend, some critical thoughts about Iran voiced by Javad Derekhti, the Chair of the World Azerbaijanis Congress was the reason for anger of Afshar Suleymani, Iranian Ambassador to Azerbaijan, who sent note to the Azerbaijani Foreign Affairs Ministry.
Ibrahimov stressed that the State Committee and other state bodies did not interfere in the internal affairs of Iran. "The Satte Committee exists 3 years and we repeatedly stated that we doen't interfere in te internal affairs of Iran. The people left Azerbaijan is our Diaspora. We also work with the Azerbaijanis from Iran. Everybody has own position and these thoughts are irrelevant to the Azerbaijan Republic," he added.