The resolution of the Armenian-Azerbaijani conflict over Nagorno Karabakh passes through the rehabilitation of the territorial integrity of Azerbaijan and repatriation of refugees, Azerbaijani President Ilham Aliyev stated in his appeal to nation at the ceremonial celebration of Novruz Bayram.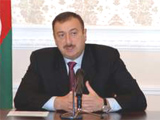 As Trend reports, the Head of state noted that Azerbaijan guided the international rule of law. Strengthening of the statehood and development of economy is priority of President's activities.
The President reminded of the soonest commission of Baku-Tbilisi-Ceyhan main export oil pipeline and assured that revenues from the realization of the project would be directed to the development of infrastructure and education. He added the average monthly income in the country would be increased.
"It all serves to strengthen independence of the country and improvement of the nation's welfare," President concluded.