Iran tries to hit back by pro-Iranian NGO's hands.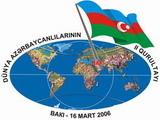 An Azeri political figure on Sunday strongly protested against certain "anti-Iran claims" made at a seminar held in the Azerbaijani capital Baku, saying they would have a negative effect on Tehran-Baku ties and were not in the interests of Azerbaijan.
"Certain "anti-Iran" claims during an official seminar in Baku were harmful to relations between the two countries and were especially against the interests of the Republic of Azerbaijan," said the head of the Association of Government Social Organizations of Azerbaijan, non-governmental organization, Akef Jaafarzadeh, in an interview with IRNA on Sunday.
Jaafarzadeh said the claims raised in the government-sponsored seminar attended by international Azeri groups in Baku amounted to meddling in the domestic affairs of the Islamic Republic of Iran, and denounced them as unjustified.
In the current situation when relations between Tehran and Baku are growing, allowing certain corrupt elements to raise false claims against Iran at an official seminar would not bring positive results, said Jaafarzadeh, adding that the statements have put the Azeri president in an unfavorable situation.
He said setting an environment for certan "anti-Iran elements" to flourish and raise "false accusations" at another government such as in the recently held seminar would be considered "sabotage against Azerbaijani officials".
Jaafarzadeh said the individuals who raised the accusations at the seminar were engaging in "political adventurism" and in acts of sabotage against both Iran and Azerbaijan.
Since Iranian Azeris were not represented at the seminar, it cannot be regarded as a real meeting of the world's Azeris, he commented.
The Azeri thinker also "regretted" the fact that official Azeri medals were conferred on certain "anti-Iranian elements".
In view of the damaging claims made at the seminar, he said there was a need to issue an apology to the Iranian embassy. (!!!)
The "famous" (?!) Azeri thinker said the West cannot tolerate Iran's independent policy and for this reason is an object of mischief by its enemies.
The Association of Government Social Organizations in Baku has scheduled another meeting in the near future in order to inform the Azeri community of the facts and rectify the "errors made in the seminar" (!), concluded Jaafarzadeh.