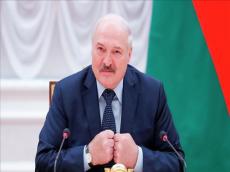 By Azernews
"The confrontation between Baku and Yerevan is over, we should think about the future," said President of Belarus Alexander Lukashenko during his meeting with CSTO Secretary General Imangali Tasmagambetov, Azernews reports.
"The confrontation between Armenia and Azerbaijan has also ended. We need to think about the future - how to organize the life of the two states there," the President stressed.
Alexander Lukashenko gave a positive assessment of the fact that at this moment in the south in Central Asia, it was possible to find a solution to some conflict that existed between Tajikistan and Kyrgyzstan.
"It is clear that both there and here the problems have been accumulating for not one year, not two, not three, and not five. These are long-standing painful points. But there is a positive trend in this regard. This is not because of our chairmanship of the CSTO in the current intercessional period. But this period saw these good steps, a moment, a movement, a trend towards calming down the situation in the post-Soviet space. I emphasize once again, in the CSTO area of responsibility. Because both Armenia and Kyrgyzstan are members of the CSTO," said Alexander Lukashenko.