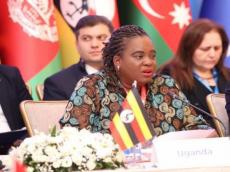 "According to the latest statistics, one in three women in the world is subjected to violence, 58% of them by their spouses," Uganda's Gender, Labour, and Social Development Minister Betty Amongi Ongom said at the international conference on "Women's Empowerment" in Baku, Azernews reports.
According to the minister, the problem of violations of women's rights in the world is still not solved.
"In some countries, women are completely deprived of rights. They cannot even open a bank account on their own. We must realise that we are still far from our goal. Some countries discriminate against women. Women's rights are violated; they are forced into early marriages."
Amongi Ongom emphasised that violence against women also remains a pressing issue.
"Today, every third woman in the world is subjected to violence. Of these, 58 percent are subjected to violence by their spouses," she said.