The Maldives has a new president, Mohamed Muizzu, who has requested India withdraw its military from the country. Muizzu won the presidential election in September, ousting incumbent Ibrahim Solih in a runoff. He had campaigned on altering the tiny Indian Ocean archipelago's "India first" policy, and promised to remove the small Indian military presence of some 75 personnel, Azernews reports.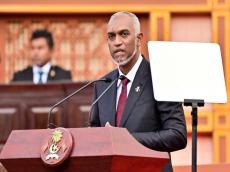 Muizzu's victory was seen as a setback for India, which has had a long-standing influence in the Maldives. His opposition alliance portrayed the relationship strengthened by Solih's India-first policy as a threat to the Maldives' sovereignty and security. Muizzu has spoken highly of Chinese infrastructure projects in the Maldives, and his alliance favors closer ties with China, which has invested hundreds of millions of dollars in the Maldives in the form of loans and grants for infrastructure and development projects.
Muizzu was sworn in as president on November 19th, and said he will ensure there is no foreign military presence in the archipelago. He said the right of the Maldives to lay down such limits should be respected. Critics say secrecy in the agreement between India and Solih's government regarding the role and number of Indian military personnel has led to suspicion and rumors. The Indian military is known to operate two Indian-donated helicopters and to assist in the rescue of people who are stranded or facing calamities at sea.
Indian Prime Minister Narendra Modi sent a congratulatory message to Muizzu following the announcement of his victory. "India remains committed to strengthening the time-tested India-Maldives bilateral relationship and enhancing our overall cooperation in the Indian Ocean Region," Modi said.
Muizzu has asked the current administration to move Yameen from a high-security prison to house arrest in the capital Male. But given Yameen's uneasy and tense relationship with Delhi, it could well be a struggle for Muizzu's new alliance to balance ties with India. Muizzu sounds determined to take the Maldives out of India's orbit but convincing Delhi to withdraw its troops may be his first big challenge.