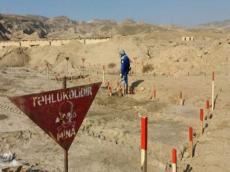 Space technologies should be used to speed up landmine clearance activities in Azerbaijan's Grabagh, Azerbaijani MP Vugar Bayramov said during the 13th IAF international session.
"I come from Fuzuli, which is located in the Karabakh region. Currently, there is a process of returning former IDPs to their homes. In particular, about 70,000 people are returning to Fuzuli. It is also worth mentioning the problem of demining. In this context, it is necessary to use space technology to accelerate the demining process, as to date more than 300 people have fallen victim to mines. This figure shows that it is extremely important to use space technology for humanitarian purposes. Therefore, the support of the international community to Azerbaijan is necessary," he said.
Following the liberation of its territories, Azerbaijan started carrying out operations on clearing its lands from mines, booby traps, and various weapons left behind by the Armenian troops.
During the mine clearance operations conducted from September 4 through September 10, 31 anti-personnel and 12 anti-tank mines, as well as 214 unexploded ordnance were found and defused in Azerbaijan's Terter, Khojavend, Shusha, Aghdam, Fuzuli, Jabrail, Lachin, Gubadli and Zangilan. An area of 5,246 hectares was checked.
Notably, the International Astronautical Federation's MMOP has been organized since 2009.
The 13th meeting was organized on the eve of the 74th Baku International Astronautical Congress scheduled for October 2-6.
The International Astronautical Congress in Azerbaijan was held for the first time in 1973 on the initiative of National Leader Heydar Aliyev.
The 24th International Astronautical Congress was held in Azerbaijan on October 7-13, 1973 under the motto "Space Research - Penetration of Science and Technology". Baku became the first city in the South Caucasus region where this event was organized.
In 2019, Azerbaijan's capital won the right to host the most prestigious event of the space industry for the second time at the General Assembly of the International Astronautical Federation in Washington, DC.
Organized by Azercosmos, the 74th International Astronautical Congress "Global Challenges and Opportunities: Give Space a Chance" will be held in Baku on October 2-6, 2023.