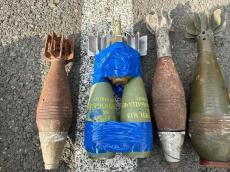 A large amount of ammunition has been found on the territory of Azerbaijan's Khankendi district.
Trap devices installed by illegal military units, as well as weapons and ammunition were discovered during the inspection of the administrative buildings by the employees of the Ministry of Internal Affairs, Azernews reports citing the Azerbaijan Mine Action Agency (ANAMA).
During the operations carried out by ANAMA employees, hand grenades in a surprise shape were found inside the pipes located at the entrance of the area, as well as trap devices containing hand grenades and various high-explosive military ammunition in the boots, behind the curtains, in the pockets of military vests, in the basement of the building.
At the same time, improvised explosive devices consisting of mortar shells, fragmentation bomblets, and VOQ-17 weapon grenades were found in order to detonate from a height and create fragmentation in a wide radius.
The detected trap devices were neutralized by the Agency employees and the security of the areas was ensured.