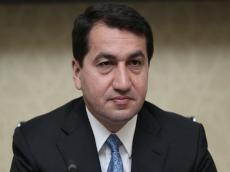 We are in regular contact with ICRC and also directly with representatives of the Armenian residences of Garabagh to be responsive to humanitarian needs on the ground, Azernews reports, citing a post on X by Hikmet Hajiyev, the Assistant of the Azerbaijani President and the Head of Foreign Policy Affairs Department of the Presidential Administration.
Hikmet Hajiyev noted that since yesterday hospitals in Agdam, Sabirabad, and Saatly regions of Azerbaijan vocated to receive a substantial number of patients from Khankandi and these hospitals were reinforced with additional medical staff.
He added that medicines and other medical stuff, especially to treat burns have been sent. Additionally, food aid was also delivered. It will be continued today and following days as well.
"Helicopter with medical team was ensured with access from Armenia to Karabakh to take the persons in need of medical support and provide medical care on the ground. - We are currently working on providing ICRC with exceptional access through Gorus-Gafan-Eyvazli-Fuzuli-Shusha-Khankandi road for medical evacuations and aid delivery," Hikmet Hajiyev noted.