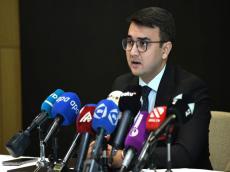 By Azernews
Qabil Ashirov
Azerbaijan is one of the countries exposed to Islamophobia, Azernews reports, citing the Executive Director of the Baku International Multiculturalism Center Ravan Hasanov telling at the briefing organized in connection with the international conference on "Islamophobia as a specific form of racism and discrimination: New global and transnational challenges" to be held in Baku.
"As a result of Armenia's military aggression, our mosques were burned and destroyed, and our population was tortured because they were Muslims and Turks," he noted.
Ravan Hasanov said that racism, discrimination, Islamophobia, and anti-Semitism have always worried Azerbaijan.
Touching on the importance of the conference, the Executive Director said that such events play an advisory role in making some decisions of the UN later. Specific scientific topics are discussed, road maps are prepared. This is one of the most important factors.
He added that being one of the places of multiculturalism, Azerbaijan has become the center of both inter-religious and inter-community dialogue.
According to him, Azerbaijan, renowned scientists from over 30 countries, experts of international organizations, religious figures, and representatives of NGOs will participate at the international conference.
"Islamophobia is a growing trend. Of course, Islamophobia is one of the issues that worries Azerbaijan. Azerbaijan is a part of Islamic history and culture. Azerbaijan, a secular country, stands out for its multicultural traditions," he stressed.
Delivering a speech at the same briefing, Farid Shafiyev, the chairman of the Center of Analysis of International Relations (CAIR), noted that Azerbaijan has become an important platform where global and international problems are discussed. Baku regularly hosts international events. The next event will be dedicated to the International Day of Combating Islamophobia on March 15-16 and will be held under the motto "Islamophobia as a Specific Form of Racism and Discrimination: New Global and Transnational Challenges."
He said that the UN General Assembly adopted a resolution declaring March 15 as the "Day of Combating Islamophobia" in 2022. After a year, Azerbaijan is holding an international scientific conference on this topic.
He pointed out that Islamophobia, discrimination, and other issues will be discussed from a scientific point of view at this event. In particular, the policy of Western countries against Islamic countries will be discussed.
Azerbaijan is also a victim of Islamophobia. During the period of military aggression of Armenia against Azerbaijan and, unfortunately, even now, a biased position against Azerbaijan is shown. The conflict is not of a religious nature, but it is unfortunate that the Western media is trying to dress the conflict as a religion.
"According to international law, regarding the issue of territorial integrity of countries and self-determination of peoples, I must note that the attitude towards Azerbaijan in Europe is completely different in relation to the conflicts related to Georgia, Ukraine, and Moldova. Of course, this issue will be discussed and scientifically analyzed at the conference," Farid Shafiyev said.