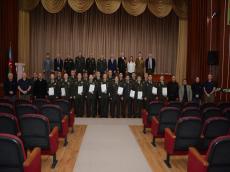 UK Ambassador to Azerbaijan Fergus Auld shared a post on Twitter in honor of the completion of a course at the Azerbaijani Defense Ministry by British specialists, Azernews reports.
"I was very pleased to present certificates at the end of the course to all instructors of the Ministry of Defense of Azerbaijan at the invitation of General Hasanov. They have successfully completed the course to improve knowledge about explosive objects presented by the UK Ministry of Defense," Auld said in a tweet.
To recap, a training course on "Information about the dangers of explosion" was held with the participation of experts from the International School of Security and Explosives Education from January 23 to February 2 of this year in accordance with the bilateral military cooperation program between the defense ministries of Azerbaijan and the United Kingdom of Great Britain and Northern Ireland (ISSEE).