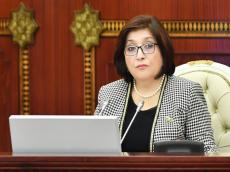 Speaker of the Milli Majlis Sahiba Gafarova sent a letter of condolences to Speaker of the Grand National Assembly of Turkiye Mustafa Sentop over the devastating earthquake in Turkiye, Azernews reports.
Sahiba Gafarova expressed her sadness at the news of deaths of people, injuries, and large-scale destruction in the Kahramanmaras, Gaziantep, and surrounding provinces. The speaker extended condolences to her Turkish colleague, to the fraternal Turkish people, on her own behalf and on behalf of the MPs, as well as expressed her deepest sympathies to the families of victims and wished them a speedy recovery to the injured.
The European-Mediterranean Seismological Center reports that on January 6, a 7.4-magnitude earthquake was felt in central Turkiye. The epicenter of the earthquake was 26 kilometers from Gaziantep, which has a population of about 1.06 million. The earthquake's epicenter was located 7 km below the surface. According to Turkiye's Disaster and Emergency Management Authority, three more earthquakes with magnitudes of 6.4 to 6.6 shook the province of Gaziantep in southeast Turkiye.