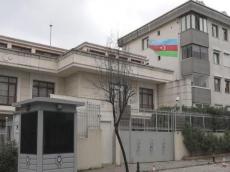 Azerbaijan has set up two hotlines for its citizens over the devastating earthquake in Turkiye, Azernews reports.
In a tweet, the Azerbaijani embassy to Turkiye addressed the citizens of Azerbaijan affected by the earthquake and kindly asked them to call the embassy through the hotline.
"The citizens of the Azerbaijani Republic affected by the earthquake that happened in Kahramanmarash and surrounding provinces are kindly requested to contact Azerbaijan's embassy in Turkiye through the hotline number +90 535 577 61 68," the embassy tweeted.
In addition, the Azerbaijani Consulate General in Istanbul addressed the citizens of Azerbaijan with similar content.
"????Azerbaijani citizens affected by the earthquake in #Kahramanmara? and surrounding provinces of Turkey or those who have information about them are requested to contact the Consulate General through the following hotline: ??+90 536 613 86 48,"
The European-Mediterranean Seismological Center reports that on January 6, a 7.4-magnitude earthquake was felt in central Turkiye. The epicenter of the earthquake was 26 kilometers off Gaziantep, which has a population of about 1.06 million. The earthquake's epicenter was located 7 km below the surface. According to Turkiye's Disaster and Emergency Management Authority, three more earthquakes with magnitudes of 6.4 to 6.6 shook the province of Gaziantep in southeast Turkiye.