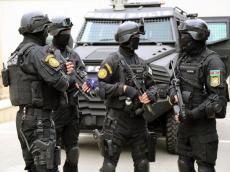 In a special police operation, 39 people involved in subversive activities under the guise of religion in Azerbaijan were identified and detained, Azernews reports per the Interior Ministry.
For the purpose of undermining the tolerance shaped in Azerbaijan, these people, posing as believers, spread propaganda in support of Iran on social media, took advantage of the country's religious freedom, and carried out assignments of the Iranian intelligence agencies.
With the aim of discriminating on a religious basis and inciting interreligious hatred, they used Iran's attributes as well as black flags with various inscriptions in Persian in social networks and at religious ceremonies in which citizens of Azerbaijan participate. They also spread confusion in society by gathering information and giving it to special services from whom they get assignments.
One of the detainees is the head of SalamNews Information Agency and InterAz television, Matlab Bagirov, alias Haji Matlab, who was also detained as a result of the special operations conducted by the Interior Ministry.
In total, 39 people were taken into custody during the police operations against the Iranian spy network. The SalamNews information agency and Interaz TV channel are among the locations, where the operations were conducted.