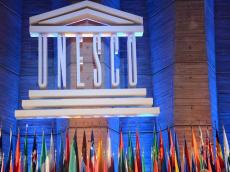 Azerbaijan keeps getting messages of sympathy from foreign states and organizations over the act of terror against its embassy in Tehran, which killed one security officer and wounded two, Azernews reports.
In a formal letter to the Azerbaijani Permanent Delegation to UNESCO, the organization's top officials denounced the terrorist attack on the Azerbaijani embassy in Tehran.
In the letter, the UNESCO Director-General sends her condolences to the government, the people, and the family of the deceased. He also wishes the injured a speedy recovery.
The letter also notes that Azerbaijan can fully trust the support of UNESCO's Secretariat.
On January 27, the head of the security guard of the Azerbaijani embassy in Iran was killed in the armed attack on the building.
"An individual with a Kalashnikov assault rifle attacked the security post and killed the head of the security guard. Two embassy guards were also wounded while preventing the attack. Their conditions are satisfactory. This treacherous attack is currently being investigated. The public will be provided with detailed extra information," the foreign ministry said in a statement.