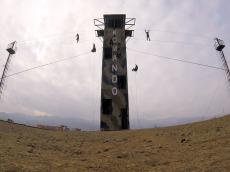 The Azerbaijani Army Commando Units have conducted tactical-special training under the combat training plan of the Land Forces for 2023, Azernews reports, citing the Defense Ministry.
Commandos practice laying a scout trail, navigating an obstacle course, and other skills in situations that are similar to actual combat conditions.
The tasks of encircling and eliminating a fictitious enemy sabotage group, as well as any resistance in human settlements and shelters, are also accomplished successfully.
The main focus of training with the Operations Commando units is on advancing the combat abilities and personal skills of the service members.
On June 26, Azerbaijani President Ilham Aliyev attended the opening ceremony of a new commando military unit as part of his visit to Kalbajar District. That was the second commando military unit commissioned in the liberated regions, following the one founded in Hadrut on December 24, 2021.
Earlier, Aliyev noted that Azerbaijan would create many commando brigades across the country. President Aliyev described the creation of the commando brigade unit in Hadrut as a significant event of strategic importance.
Experts described the creation of commando brigades in Azerbaijan as a new stage in the national army building. It was also assessed as a clear message for supporters of revanchist ideas in Armenia.