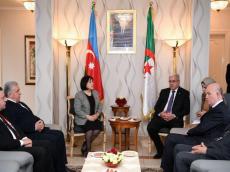 Azerbaijani Milli Majlis (Parliament) Sahiba Gafarova met with Chairman of the People's National Assembly of the Algerian Parliament Ibrahim Boughali during her visit to Algeria, Azernews reports.
Welcoming the Azerbaijani speaker, Ibrahim Boughali credited the existing inter-state and inter-parliamentary relations and recalled the attendance of Azerbaijani President Ilham Aliyev at the 31st summit of the League of Arab States in November 2022.
That visit contributed dramatically to the ongoing deepening of the bilateral bonds, Boughali said, recalling his own visit to Azerbaijan in June 2022 to take part in the first conference of the Parliamentary Network of the Non-Aligned Movement.
Boughali added that he had met with members of the Algerian community of Azerbaijan, and thanked the host for the fine living conditions afforded to the community.
On Azerbaijan'a success in regaining its own lands from the Armenian occupation, the Algerian speaker stressed that his people, too, had experienced similar developments in a certain period of their history and so completely understood the pride the Azerbaijani nation felt about their victory. The Algerians wish the Azerbaijanis peace and stability, Boughali added.
Sahiba Gafarova, in turn, thanked him for the invitation to arrive in Algeria and for the cordial hospitality extended to the Azerbaijani delegation. She added that the parliaments of Azerbaijan and Algeria cooperate fruitfully and support each other under the roof of international parliamentary organizations. All these serve the cause of peace, security, and solidarity, Sahiba Gafarova said.
She gave detailed information to Boughali about the terrorist attack on the Azerbaijani embassy in Tehran on January 27, 2023.