The meeting of the staff heads of the Azerbaijani, Kazakh and Russian border services was held at the central administration of the Azerbaijani State Border Service (SBS) on Thursday with participation of the head of SBS Elchin Guliyev.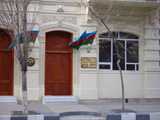 Guliyev said to Mansur Valiyev (Russia) and Khusain Berkaliyev (Kazakhstan) that Azerbaijan turned into the country with special weight and authority among the European countries through purposeful and succesful work. According to Guliyev, events in cooperation on border issues and other fields develop in the line of ascent. Acquiring international experience, SBS expands relations with appropriate bodies of the foreign countries, strengthen border guard, ensure defense of national ineterests in the higher level.
According to Trend during the meeting the sides discussed cooperation to prevent illegal migration on the Caspian Sea, drug and arm traffic, smuggling, penetration of terrorist and other criminal groups into the territory of the country, as well as organization of exchange of information to struggle with illegal activities.