The US State Secretary Condoleeza Rice phoned yesterday to the Azerbaijan president Ilham Aliyev, the press service of the Azerbaijan president reports.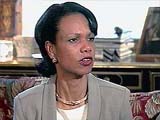 According to Trend, during the telephone talk various aspects of cooperation between Azerbaijan and the USA have been discussed. The US State Secretary appreciated highly the Azerbaijan peace-keeping forces involvement in Kosovo, Afghanistan and Iraq and emphasized especially the support of Baku to Tbilisi during the energy crisis in Georgia.
President of Azerbaijan Ilham Aliyev and the US State Secretary exchanged views in regard to the current state and perspectives of the talks on the settlement of the Armenian-Azerbaijani conflict over Nagorny Karabakh, as well as the scheduled meeting of presidents of Azerbaijan and Armenia in France. The head of the Azerbaijan state voiced his gratitude for the US active involvement in the process of the conflict settlement and evaluated highly the role of the American government in the process.
During the telephone talk other issues of mutual interest have been also touched upon.