President of Azerbaijan Ilham Aliyev left today for Paris on a visit.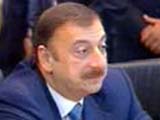 The major negotiation day with the Armenian president Kocharyan within the Nagorny Karabakh peaceful settlement process will be the 10th of February, the head of the foreign relations department of the Azerbaijan president executive office Novruz Mammadov told Trend the day before.
According to him, Ilham Aliyev is expected to hold a separate meeting with the French president Jacque Chirac. Consultations with the OSCE Minsk group co-chairs are also scheduled.