Grouping of the National Independence Party of Azerbaijan (NIPA), headed by Etibar Mammadov took a decision to take part in by-elections.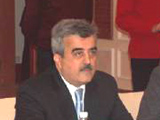 He noted, the party decided to do it in accordance with the NIPA Charter. At the same time there are members inside the party against participation in by-elections. "The issue will be debated again by the party's relevant bodies and it is likely to be put on voting. NIPA will shortly take a final decision in this respect," Mammadov told Trend
He also noted, the tactics of ignoring elections is not assessed positively by the International Democratic Union, to which NIPA is a member. However, despite this, Mammadov personally will not take part in by-elections.