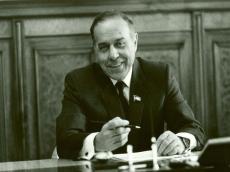 MP Jala Aliyeva of the Azerbaijani parliament proposed to hold hearings dedicated to the National Leader Heydar Aliyev, Azernews reports.
Speaking at a plenary session of the parliamentary standing committee for family, women, and children's affairs, MP Jala Aliyeva spoke about the significance of the national leader's contribution to women's role in politics and position in society.
"Therefore, I propose to hold hearings dedicated to Heydar Aliyev at a meeting of the committee during the spring session," she added.
To recap, Azerbaijani President Ilham Aliyev signed an order to declare 2023 a Year of Heydar Aliyev in the country on September 29, 2022.
The decision was made due to the national leader's 100th birth anniversary to be marked on May 10, 2023.