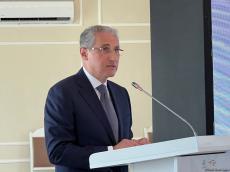 Monitoring of Azerbaijan's natural resource exploitation is of most importance and will be carried out, Azerbaijani Minister of Ecology and Natural Resources Mukhtar Babayev said. 
He noted that while Azerbaijani lands were occupied by Armenia, the country's natural resources were plundered, and environmental terrorism was committed against its nature and forests.
"Monitoring will be conducted. Great efforts are being made over all the requirements put forward by Azerbaijan, and their implementation will be achieved in the foreseeable future," Babayev added.