Visiting Turkey Oqtay Asadov, chairman of Milli Majlis of Azerbaijan met with Bulent Arindj, speaker of Great National Assembly of the country.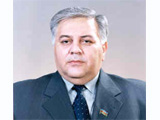 Speaking at the press conference held after meeting of speakers and delegations of the two countries Bulent Arindj emphasized great role of parliaments in rapprochement of two friendly states.
The Turkish speaker also stated they discussed current situation in regulation of Armenia-Azerbaijan Nagorno Karabakh conflict and added the conflict should be resolved only within the frames of territorial integrity of Azerbaijan and international law norms. Mr. Arindj stressed close relations between the countries would develop in future as well.
In his turn, Oqtay Asadov noted how important the visit is for development of inter-parliamentary relations.